4/22/2008
For all of you lucky enough to get in to the Rocci Post show on April 19th, the band had a great time!
They opened the show with a crowd-grabbing cover of the Rascals' "Come On Up", which segued into James Brown's "Papa's Got a Brand New Bag", their first hit single "Once Upon a Time", the Beatles' "Things We Said Today" Dick Guerrette soloed on the Eagles' "Desperado", Then the band did Spencer Davis Group's "Gimme Some Lovin", the b-side of their first single "(Bye Bye) Out the Window", Their biggest single "We Can't Go On This Way", the Olympics / Rascals "Good Lovin", and then closed their set with their local crowd pleaser "Sunny Side Up". The other Bands that night - Replay, The Warlocks, and 97 North - all played exciting sets as well to this wall-to-wall, SRO audience.
3/15/2008
Teddy and the Pandas will play live at the Vitorri Rocci Post April 19th 2008!!
This will be the first public live show by the five original 1966 recording and touring members of Teddy and the Pandas in over forty years!
Please plan to be there!
Advance Tickets are available at Salon Oasis located at the Hawthorne North Plaza on route 1 in Danvers.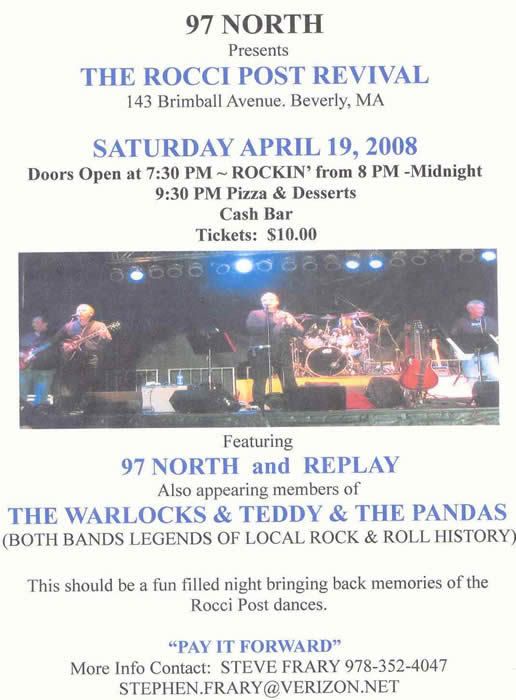 Don't miss this historical performance which we all hope to be the first of many!!
More info and reminders to come.
9/1/2005
Today marks the 5th anniversary of the Teddy and the Pandas website!

What could have marked this milestone better than to have Teddy and the Pandas play together live last Saturday night for the first time in decades? Even more satisfying than that was to see these five great guys, together for the first time since their recording project in 90s, laughing, hugging, and reaffirming their brotherhood and friendship as Teddy and the Pandas.

One of my fondest wishes was to be able to see Teddy and the Pandas perform again, and this wish was granted on August 27, 2005. In many ways, the interest you as fans have shown via this site contributed to landmark event. With nearly 20,000 total fan hits to the website from all over the world, the guys realize the lasting impact they had on so many in the 60s, as well as many new fans enjoying their music decades after it's creation. Let's hope there are more reunions concerts from the band in the future....
Wiper, webmaster, TeddyandthePandas.com
8/29/2005
Billy Corelle's Birthday Party Dazzles All With A Surprise Teddy And The Pandas Reunion Concert!!!!
Teddy and the Pandas, August 27, 2005
(left to right): Al, Lawrence, Teddy Dewart, Billy (Sonny) Corelle, Jerry Labrecque, and Dick Guerrette
Family and friends gathered at the Vittori Rocci Post in Beverly Massachusetts on Saturday, August 27, 2005, attending a surprise birthday party for Teddy and the Pandas bassist Billy (Sonny) Corelle. Live music was provided by locally renowned blues band Part Time Lovers. During one of the bands breaks something happened that marks a historical event for Teddy and the Pandas fans everywhere! For the first time in nearly 40 years the best known line-up of Teddy and the Pandas played live together (although there was a band reunion in 1983, it featured Paul Rivers on guitar who had replaced Teddy Dewart). The Pandas took to the stage with no prior rehearsal and did a fantastic job on an impromptu set consisting of "Once Upon A Time", "Sunny Side Up", "Hang On Sloopy" and "We Can't Go On This Way" to the excited delight of everyone in attendance.

Click on the photo from the impromptu reunion concert above to hear a sample of the performance.
.
Teddy and the Pandas, August 28, 2005
(left to right): Dick Guerrette, Jerry Labrecque, Billy (Sonny) Corelle, Al Lawrence, and Teddy Dewart


Here's hoping the guys all get together again soon so all their fans can hear and see them!
10/23/2004
Teddy & The Pandas hit the airwaves in Serbia and Montenegro in 2004!
Teddy tells us that he was recently interviewed in an hour-long live radio broadcast from Serbia in Eastern Europe! Apparently, the radio personality who did the interview, Bogomir Mijatovich (AKA 'Bogi') who hosts "Radio 100" on Radio Novi Sad, the only national music broadcast station in Serbia, had gotten hold of North Shore Soundwork's new Teddy & The Pandas "Once Upon A Time" double CD, and wanted to review it. After listening to it, he contacted Teddy via this site and requested to do a live radio interview. Teddy says 'Bogi' loves "Once Upon A Time" and was astounded to hear that Teddy & The Pandas had not been released internationally back in the 60's! Bogi will be pleased to hear that this Teddy & The Pandas web site actually gets regular hits from all over Europe, including The Czech Republic, Italy, Switzerland, a large number from the Netherlands and the United Kingdom, not to mention Brazil, Mexico, and Japan! While you might think Serbia is a long way from the U.S. "oldies" Rock scene, it seems 'Bogi' is actually well known in Europe for his interviews with a number of Rock & Roll greats, including Reg Presley (Troggs), John McNally (Searchers), Randy Bachman, David Surkamp (Pavlov's Dog), Barry McGuire, Brian Auger, Carol Kaye, Galt MacDermot, Jim Rado, Pete Rivera, Dave Dee, Jim Peterick, Bill Wyman, and Andrew Gold.
Teddy will be getting a CD copy of the interview and says he'll be sharing with us.
Teddy & The Pandas send a big "Hello!" to all in Serbia and Montenegro listening to Radio 100!
6/23/2004
New Teddy and the Pandas 2 CD Set Available Here!!
Great News!!
Announcing "Once Upon a Time" - a new two CD set with 34 remastered Teddy and the Pandas songs, including a separate disc of rare and unreleased tracks - available now! This set includes every studio recorded Teddy and the Pandas track known to exist!

All the tracks have been digitally remastered to provide the best sound possible and are superior in sound quality to our past CD offerings. As well, a picture-filled 12 page booklet is included with an all new Pandas biography, written by well-known garage rock and pop journalist Mike Dugo with the help of band members Teddy Dewart and Billy Corelle.

The three very popular Teddy and the Pandas CDs ("The 45s", "Basic Magnetism" and "Rarities and Forgotten Gems") offered previously are no longer available. Thanks to all who purchased them.
Please go to the Pandas Shop page to see the details.
2/9/2003
The tapes from Al Lawrence's basement have yielded five early unreleased Teddy and the Pandas recordings.
More to come....
12/10/2002
While in his attic getting out holiday decorations, Teddy Dewart stumbled across yet another Pandas treasure: a tape reel with, among other things, an early, unreleased, alternate take of Teddy and the Pandas doing Once Upon a Time. This version does not include the harpsichord that is the centerpiece of the Coristine/Musicor version, but instead features a rockin' drum and bass bridge. The track was successfully extracted from the tape and restored to superb monophonic sound. Check the sound clips page to hear a bit of this treasure.
Al Lawrence also found an old tape reel in his basement which, along with Teddy's tape, may yield yet more Pandas rarities that may warrant release.
Stay tuned.......
06/01/2002
(L to R) Jerry Labrecque, Billy Corelle, Teddy Dewart, May 2002
Word has it that over Memorial Day weekend, Billy Corelle and Jerry Labrecque dropped by to visit with Teddy Dewart at a secluded celebrity retreat on Martha's Vineyard, and ended up working on three of a number of songs Teddy and Billy have been collaborating on over the internet. When news got out that Panda song writing was going on at the Vineyard, the 'Wiper' dropped by with his computer gear and recorded the first of the newly designed digital studio tracks, and they sound great! We hear the working titles for two of the songs are "Let the Young Girl Go" and "This One's on You," but we still have to wait for the name of the third song; Billy and Teddy say the ink's not yet dry on those lyrics! You can be sure, there'll be more news coming as they occur! Sounds like something's in the wind….
Great food and great music along with lots of laughter, hard work and friendship were shared over this four days impromptu event! The 'Wiper' caught this pic of the guys together but (true to form) chose not to be included. Seems he's not yet ready to have his true identity disclosed…yet!
03/18/2002
We've just implemented an automated Teddy and the Pandas newsletter mailing list subscription system which will allow you, the Panda fan, to subscribe or unsubscribe yourself. The subscription panel is on the post office page. Everyone who had been added to our manually maintained newsletter mailing list was invited to join. Newsletters are sent out as events dictate.
03/02/2002
The Lance Monthly and Mike Dugo have done it again! Mike covers the release of the "Rarities and Forgotten Gems" CD as the lead article in the "News and Nuggets" section in the March, 2002 issue of this well established monthly on-line '60 surf and garage band music magazine.
Thanks once again to the Lance Monthly and Mike!
02/18/2002
A new Teddy and the Pandas collection will be available the beginning of March 2002, exclusively from the Teddy and the Pandas website shop. The new compact disc EP is titled "Rarities and Forgotten Gems" and contains seven unreleased and rare Pandas songs. The liner notes by Lance Monthly Chief Staff Writer, Mike Dugo, detail the unearthing of these 'archeological' finds - tracks which were all recently discovered from long lost and forgotten demo acetates, audition pressings and rare singles:

Games - written by Bob Stone, who wrote, arranged and/or produced other Pandas hits "We Can't Go On This Way", "Searching for the Good Times" and "City Woman", he is best known for writing the Cher hit "Gypsies, Tramps and Thieves". The Pandoras also did 'Games" as the B-side to one of their singles. The song sounds as though it was created during the same sessions that produced "We Can't Go On This Way" and appears to have Toni Wine, songwriter, backup singer for Steely Dan, and one time member of the Archies, singing backup on this tune as well.

Willie Dum Dum - penned by Teddy Dewart of the Pandas, this song sounds as though it, too, was created during the same sessions that produced "We Can't Go On This Way".

Girl from California - also written by Bob Stone and possibly from the "We Can't Go On This Way" sessions as well.

I Want to be Loved (Tonight for Always) - Written by Teddy Dewart, this steamy ballad lacks the heavier studio production of their later songs, and takes us back to the pure Pandas sound of "Once Upon a Time" and "(Bye Bye) Out the Window".

Childhood Friends - this monophonic single version of "Childhood Friends" is substantially different than the stereo track on the "Basic Magnetism" album and CD, and the "45s" CD. Especially evident is the more pronounced and extended echo vocal effect in the first verse. The instrumental mix varies subtly and is engineered with more 'punch' for AM radio play.

68 Days 'Till September - different, as well, than the stereo track on the "Basic Magnetism" album and CD, and the "45s" CD, it's mix varies subtly and is engineered with more 'punch' for AM radio play.

New Day - a Teddy Dewart composition, this track was performed by the Boston area girl group, the Pandoras, on the Liberty label. This folk –rock anthem is indicative of the late '60s and the Pandoras sound seems to predict that of Suzanna Hoffs and the Bangles, some twenty years later.

01/05/2002
After several months of availability, the Pandas forum page has proven to be a huge flop! Nobody hardly ever went there and receiving only two new entries during that time certainly proved it's lack of popularity.
The guestbook, which the forum page replaced, has been reactivated. You'll notice the 'forum' entry is now gone from the menu on the left, and a 'guestbook' entry now takes it's place. All the original guestbook entries have been restored.
Hopefully new and repeat visitors will visit the book often and regularly leave a message or two behind.
10/11/2001

Deja Vu - it's like being in the '60s again!
We've been notified by two 'college' FM radio stations that they've been including Teddy and the Pandas in their rotation since August.

Alex Piandes is the host of the Saturday morning "Coffee 'n' Smokes" radio show on WMFO-FM. 'Coffee 'n' Smokes' http://coffeensmokes.freeservers.com is a radio show "featuring new & vintage garage/punk, surf, psychedelic, rockabilly, pop obscurities(...and a little bit o' greasy R & B here 'n' there where it fits!)". WMFO-FM Broadcasts out of Medford Massachusetts and is affiliated with Tufts University. Their website is at http://www.wmfo.org/listen.htm and they offer streaming audio of their shows over the internet.

Plastic Tales is a weekly radio program airing on WNYU-FM in New York City "featuring psychedelic, garage, mod, pop-sike, freakbeat, surfadelic, progressive and krautrock from the '60's, early '70's and beyond".

WNYU-FM broadcasts in New York City with 8,300 watts of power and can be heard in the Tri-state metropolitan area including portions of New York, New Jersey and Connecticut. WNYU can also be heard worldwide live on the Internet via Real Audio streaming. Their website is at http://www.wnyu.nyu.edu/plastictales .
The website has been offering promo CDs to interested radio stations.
10/7/2001
A Website Upgrade!
The guestbook area of the website has been replaced by a message forum. All the original postings to the guestbook have been moved to the forum. This area will more readily lend it self to interactive discussions on Teddy and the Pandas related topics as well as allow you to request an email notification if someone responds to your posting. You may access this area by clicking on Forum in the menu bar.
As with the guestbook , after posting your message, it may take a brief time for the posting to appear. You may as well need to refresh the forum section of the page to successfully view your posting.
10/6/2001
Teddy's attic finds arrived today at North Shore Soundworks safe and sound. The first challenge attacked was the audiodisc of the unreleased and previously unheard Girl from California. At some point, over the last 35 years or so, something must have fell on the acetate, permanently dimpling the metal core and the soft acetate covering it. It hit from the Willie Dum Dum side (thank goodness we have Glenn Sadin's copy of 'Willie' and another copy on one of Teddy's other finds). Unfortunately, on the 'Girl' side the acetate surface was raised like an ugly pimple. It came at about :40-:55 seconds into the song and it really raised (no pun intended) hell with the turntable. A lot of time was spent adjusting the stylus and anti-skate forces on the tone arm to get certain areas to stop skipping. It was necessary to splice a half dozen samples throughout that :40-:55 range, then sync them and crossfade between samples to get the song complete, but it's done. The price? Some in and out sections of hiss through that time range that can't seem to be eliminated without serious overall sound degradation, but nary a skip. It was worth the work - this song is a Pandas gem that needs to be heard!
Another lost classic, I Want To Be Loved (Tonight, for Always), was previewed from the acetate and it's a beautiful ballad, typical of the Pandas sound.
More as the digitizing and cleaning process progresses. We'll try to get clips posted soon.....
10/5/2001
Mike Dugo has once again given Teddy and the Pandas and their web site kudos in the News and Nuggets section of the October, 2001 issue of The Lance Monthly, the internet '60s pop and garage band magazine. As the section's lead story, his article covers, in detail, both Glenn Sadin's coming forth with his Pandas' long lost acetates as well as Teddy Dewart's attic finds. Thanks again, Mike, for your ongoing enthusiastic support!
9/10/2001
More lost Panda tracks found!
While cleaning his attic this weekend, Teddy found a box full of 45 rpm recordings. Also, Teddy found several "AudioDiscs", an acetate-like platter that demos were lathed on at studios in the '60s. Some of what Teddy found included a demo, by the Pandoras, of a Teddy Dewart/ Johnny McEwan composition, New Day (which was ultimately released by The Pandoras on the Liberty label), as well as two more unreleased Pandas tracks: I Want To Be Loved (Tonight, for Always), Girl from California and maybe more. As well, some of the acetates were of familiar released songs which were recorded at Ace Studios in Boston and may be examples of the raw Pandas sound, prior to the adding of additional instrumentation and backing vocals at Associated or Olmstead studios in New York City.
Teddy is forwarding the find to North Shore Soundworks for digitizing and noise reduction - more later......
9/1/2001
The Teddy and the Pandas Website is one year old today!
It's hard to believe this site has been up that long! The site has brought together so many fans from all over the world. So many of you have been kind enough to stop by and leave a message in the guest book or send an email. Thank you all for your encouragement and great comments about the band. I know Billy, Teddy, Dickie, Jerry and Al enjoy your comments, support and enthusiasm.
The site continues to grow and attract people across the internet. On January 1, we had been visited only 85 times! As of this moment, there have been 1,772 visitors here - 300 of those in just the last 30 days, so the word is getting out there!
As a special anniversary surprise, effective today, this website can be reached by it's own URL: http://www.TeddyandthePandas.com !
8/28/2001
The long-lost acetates of the Pandas' We Can't Go On This Way/Games and Sunnyside Up/Willie Dum Dum, mentioned in the Fuzz, Acid and Flowers music guide (see the links page), have been located! They are in the possession of Glenn Sadin in California.
Glenn reports "Yes, it was Bruce Patch [Teddy and the Pandas' Manager in the '60s] who sold the two acetates (along with a complete set of their pre-Tower 45s) to Village Music in Mill Valley, CA, where I bought them. The owner of the store told me that Bruce Patch lives (lived?) up in Sonoma County, in the Wine Country north of SF."
Glenn has been gracious enough to offer us copies of these acetates so we can add the Teddy Dewart composition Willie Dum Dum, and Bob Stone's Games (as well as possibly alternate versions of We Cant Go On This Way and Sunnyside Up) to a future compilation.
8/4/2001
To assist our regular visitors in being able to track changes on this sight, I've added a NetMind subscription button to the bottom of this page and the Guest book page. By putting your email address in the window and pressing the Mind-it button, you will be contacted whenever those pages change. Accordingly, I will update this page whenever a change is made to the site so you can check it out once your notified.
6/2/2001
The Teddy and the Pandas website gets kudos in the "News & Nuggets" section of The Lance Monthly June, 2001. The Lance is a very informative 'e-magazine' focused on 60s surf and garage band music. Also, check out the article on the "Blair Witch Project" of 60s Boston area rock - Thee Wytches. You might notice that the Wiper is mentioned as one of the 'rock-sleuths' that uncovered the truth! Thanks to Mike Dugo for helping to spread the word on the site.
5/12/2001
We just finished up some major additions and changes to the website, fueled by additional memorabilia and photo items supplied by Teddy Dewart and fan Alan Lowell. We added a guest book page where you can leave a note for the Pandas and other Panda fans to view and we've included a post office page where you can send an email directly to the Pandas that have email. Please take a look, as well, at some of the new sites on our links page. We've also moved to a new web host to provide more reliable connections.
We hope you will share your Pandas memories and memorabilia, if you have any, with us and we hope you find the site as much fun to visit as we have to provide it to you. Get the word out to your friends to come visit!
10/28/2000
The Summit Club Internet radio show, hosted by DJ Sterling, did a special tribute to Teddy and the Pandas by playing Once Upon a Time, We Can't Go On This Way and Searching for the Good Times and interviewed the PandaWebmaster (The Wiper) about the band.
9/1/2000
The Teddy and the Pandas web site officially opened for business.
7/18/2000
Jerry, Billy, The Wiper and our friend, Dominic, went to see Brian Wilson perform Pet Sounds live at the Fleet Pavilion in Boston. We all had a great time, stopping on the way at the Newbridge Cafe in Malden for some awesome steak tips!